Accommodation
Edinburgh Christmas Market Trips
Add this event to your calendar
The Living Support team have arranged return coach trips for you to visit Edinburgh's spectacular Christmas Festival.
We've taken the hassle out of arranging travel so that you can spend a magical day in our Christmassy capital with your flatmates, friends, and other students. All current University of Glasgow students are welcome.
Our last coach trip of the year is on Sunday 12th December:
9AM: Bus departs from Maclay Residences, 17 Sandyford Street to Murano Street Student Village
9:30AM: Bus departs from Murano Street Student Village, 13 Caithness Street to Edinburgh City Centre
5PM: Bus departs from Edinburgh City Centre back to Murano Street Student Village and Maclay Residences
Residences closest to Murano Street: Wolfson Hall (40 min walk or bus along Maryhill Road), Queen Margaret Residences (24 min walk), Lister House (26 min walk)
Residences closest to Maclay: Kelvinhaugh Residences (4 min walk), Student Apartments (20 min walk)
Ticket price:
£20 per person for return coach ticket
Entry to the market is free, though there are paid attractions once there
How to book and pay for your ticket:
Reserve your spot for free first on Eventbrite
The ticket fee must then be paid in cash by Monday 6th December
Fee should be placed in a sealed envelope with your name and student number on the front and handed in to a staff member at any of the following locations:
Student Services Enquiry Team, Level 2, Fraser Building (Monday - Friday 9am-5pm)
Murano Street Student Village reception (Monday - Friday 8am-7pm or weekends 6-7pm)
Maclay Residences reception (Monday - Friday 8am-7pm or weekends 6-7pm)
Wolfson Hall reception (Monday - Friday 9am-5pm)
Student Apartments office (Monday - Friday 9am-5pm or daily 6:30-7:30pm)
About Edinburgh's Christmas Festival
Edinburgh's Christmas is a spectacular, six-week season of festive entertainment in the heart of the city. Nestled in the heart of Edinburgh, the traditional Christmas Market offers something for everyone. With stalls selling everything from local and bespoke products and gifts to tasty treats, visiting the market is a must this year.
You can also visit the Christmas Tree Maze, Forth 1 Big Wheel, Ice Skating, Santa's Grotto, the Star Flyer and Waltzers rides, and more (tickets for these can be purchased from https://www.edinburghschristmas.com/whats-on or in person on the day).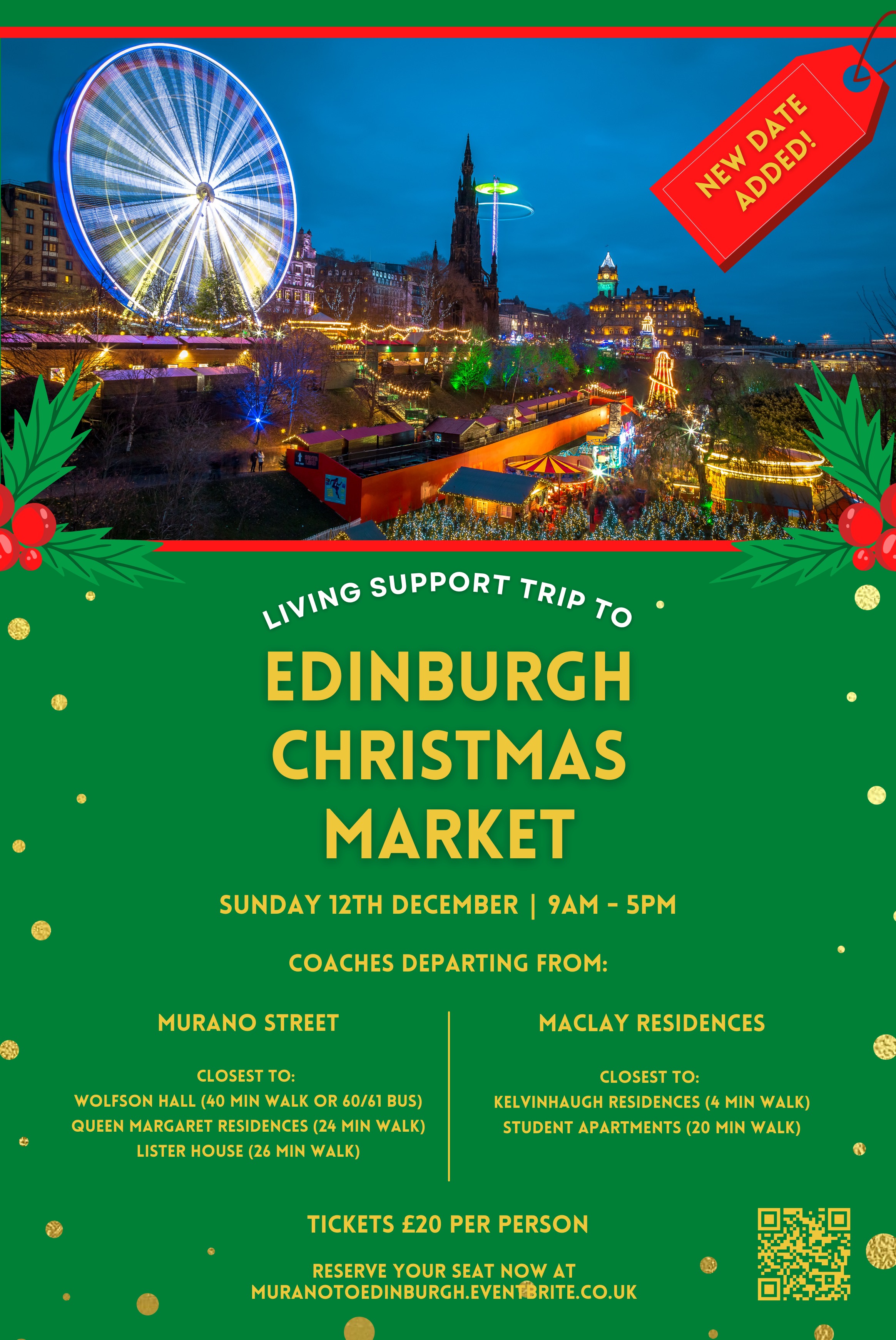 Topics