Accommodation
Get to know your area: Queen Margaret, Winton Drive and Lister House
This popular trio is located in Kelvinside, a beautiful residential area made up of large Victorian villas and magnificent terraces. You'll feel like royalty here. Let's have a look at the classy things you can do nearby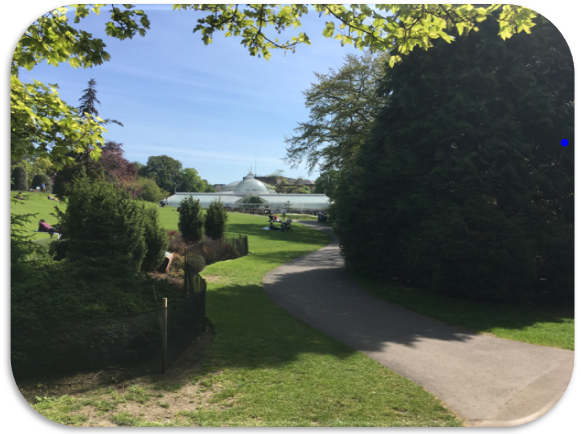 Approximately 5 minutes walk from the residences, you'll find an entrance to the Kelvin Walkway. The path runs along the river Kelvin, it takes you through the Botanic Gardens all the way to Kelvingrove Art Gallery and Museum. It's a popular walk and great for cycling too - an oasis in the city!
With an entrance to The Botanic Gardens being only a couple of minutes away from the residences. You might want to take this route when walking to University. Gates open at around 7am and close at dusk. The Kibble Palace is a relaxing and inspiring spot to visit, especially if you are struggling to get your creative soul to work. Ideas will flow here as you peacefully listen to the flowing water, stare at golden fish and get lost in the wild Amazonian jungle alongside splendid marble statues.
Approximately 10 minutes walk away, Hyndland Road is a nice spot where you can find some small independent cafes, bistros and shops, but it'll probably be Byres Road where you'll spend most of your leisure time. You must visit the atmospheric Ashton Lane; tucked away behind Hillhead Subway it offers a great selection of pubs, bars, restaurants and a very cosy cinema. There is a staircase that links the Campus and the Lane; handy! Its quirky neighbour, Ruthven Lane, is just across the road; vintage, antique, record shops, fancy restaurants and more.
Byres Road is the main high street of the West End so you'll find numerous shops, supermarkets, cafes, and restaurants there. Here are some suggestions for you.

Just across from the Botanics, there is a splendid old church now functioning as the main entertainment venue of the area. Oran Mor is home to a restaurant and brasserie, live music bar and a popular nightclub. Loads of music and comedy gigs take place in here. Its lunchtime theatre show, 'A Play, A Pie and A Pint' is one of its most successful.

With so many places to grab some food, it's hard to choose. If you're feeling Italian, try your hand at customising your own pizzas at Little Italy,Spuntini's or Tony Macaroni.  How about something more traditional like Fish and Chips at Old Salty's or a steak at The Bothy. Whatever your are in the mood for, Byres Road will have something for you! There's even a Greggs and Subway so you're well covered!
If you fancy going to second hand charity shops in search of some bargains, there are plenty here. Books, music records, clothes, you name it!
A walk to campus will take you around 20 minutes. For a trip to the City Centre, you can take a bus from Cleveden Road or Great Western Road, it'll take around 10 minutes. Your nearest Subway stop is Hillhead, around a 15 minute walk.
Every month we post a What's On guide featuring the latest activities and events so keep an eye out for that but most of all enjoy yourself and make the most of your neighbourhood!
You stay classy, Kelvinside!
Topics