Accommodation
Get to know your area: Student Apartments and Thurso Street
Two minutes from campus and the west end - what's not to like!
With Student Apartments being located on Hillhead Street, Gibson Street and Southpark Terrace and Thurso Street sitting opposite the Uni's Dumbarton Road Gateway, you're not only living virtually on campus but you'll also be living in the heart of the trendy West End.
Only a couple of minutes away from Byres Road and Great Western Road you'll not be short of places to eat, drink, shop or be entertained but there's lots of life on other streets as well so let's go for a wander
Renowned across Scotland, Byres Road is home to a superb range of independent shops, supermarket chains, cafes, and prestigious restaurants.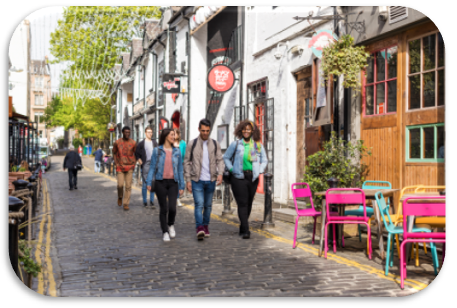 ©University of Glasgow
Top of the list for many visitors to the West End is usually Ashton Lane where you'll find a surprising selection of pubs, bars, restaurants and a very cosy cinema dotted along the quaint, cobbled alley. There is also a staircase that links the Campus to the lane so that's handy!
Ashton Lane's quirky neighbour, Ruthven Lane, lies just across the road and features a number of vintage, antique, and record shops, fancy restaurants and more. At the junction with Great Western Road you'll also find the lively Oran Mor. Formerly a church, Oran Mor is now home to a restaurant and brasserie, live music bar and a popular nightclub. Loads of music and comedy gigs take place in here and its lunchtime theatre show, 'A Play, A Pie and A Pint' is one of its most successful.
Every summer, Byres Road also plays host to the West End Festival which offers a wide range of events including live music, art stalls and great food!
Shopping wise, bargain hunters will also be thrilled with the wide range of second hand and charity shops. Books, music records, clothes, you name it! There are also a number of supermarkets including Tesco, Iceland and Waitrose.
Tucked away in Otago Lane you will find the peculiar second hand bookshop, Voltaire & Rousseau. Visiting the place is a whole experience on its own. Whoever manages to explore the shop without knocking down one of the numerous book piles or waking up the cat deserved considerable respect. Right next to it you'll find the most chilled out tea house in town; Tchai Ovna serves an infinite variety of teas and vegetarian food. To compensate for the time you've put into reading their endless drinks menu, they give you free refills!
Also hidden away in Otago Street, you'll find Albamusick, a specialist music shop which deals in second hand and antiquarian printed music and books - perfect for the keen musicians. The shop shares its charming premises with Thistle Books, another heaven for second hand book hunting.
Living in the heart of the West End, you'll also be within 5 minutes of two of Glasgow's finest public parks - The Botanic Gardens and Kelvingrove Park. Beautiful spaces to visit when the sun comes out or if you need a break from the books!

On top of all this, thanks to the Subway stations at Hillhead and Kelvinbridge, you are also minutes from Glasgow city centre and all that it has to offer. Hillhead station in particular is worth checking out as it comes with an impressive piece of public art by local artist Alasdair Gray.
So that's a few suggestions to get you introduced to your new area but remember that this barely scratches the surface of what is on offer in Glasgow and there are lots of other things to see and do. Every month we post a What's On guide featuring the latest activities and events so keep an eye out for that but most of all enjoy yourself and make the most of your neighbourhood!
Topics