Accommodation
Mental Health Awareness Week 22
Mental Health Awareness Week (MHAW) was started 21 years ago by the Mental Health Foundation to focus on how we can achieve good mental health.
This year, MHAW aims to raise awareness of the impact of loneliness on our mental wellbeing and the practical steps we can take to address it. The week will run from Monday 9th to Sunday 15th May and we'll  be sharing information and resources, and signposting to services that can help if you experience loneliness. We have also planned a series of events for you to join too.
Monday 9th May - Introduction to MHAW
We'll be kicking off by introducing you to Mental Health Awareness Week (MHAW) and this year's theme, loneliness. Throughout the week we'll be sharing information and resources, and signposting to services that can help if experience loneliness.
Exam time can be particularly lonely and stressful, so the Living Support Team have organised online study sessions so that you have some company while you revise or work on assignments. We will be using the Pomodoro technique, which involves 25 minutes of silent studying followed by a 5 minute break for chatting and relaxing. We'll do this four times before finishing up, with some time to socialise at the end. Join on Zoom from 4-6pm.
Tuesday 10th May - Living Support takeover
Join Living Support Assistant Abigail as she takes over the UofGLiving social media. She will be talking about what the Living Support service does and how you can contact them, as well as sharing advice for tackling loneliness while at university.
Join the Living Support Team on a relaxing walk to the Necropolis and learn about the history, archaeology and significance of this Victorian time capsule located in the urban landscape of Glasgow. If you're a movie fan, you may also recognise this location from The Batman (2022).
Meet at 2:30PM at Maclay Residences, 9 Cooperage Place, G3 8QP or at 3PM at Buchanan Street Subway Station. There are limited places available so please register for this free tour on Eventbrite.
Image copyright: Arianna Magyaricsova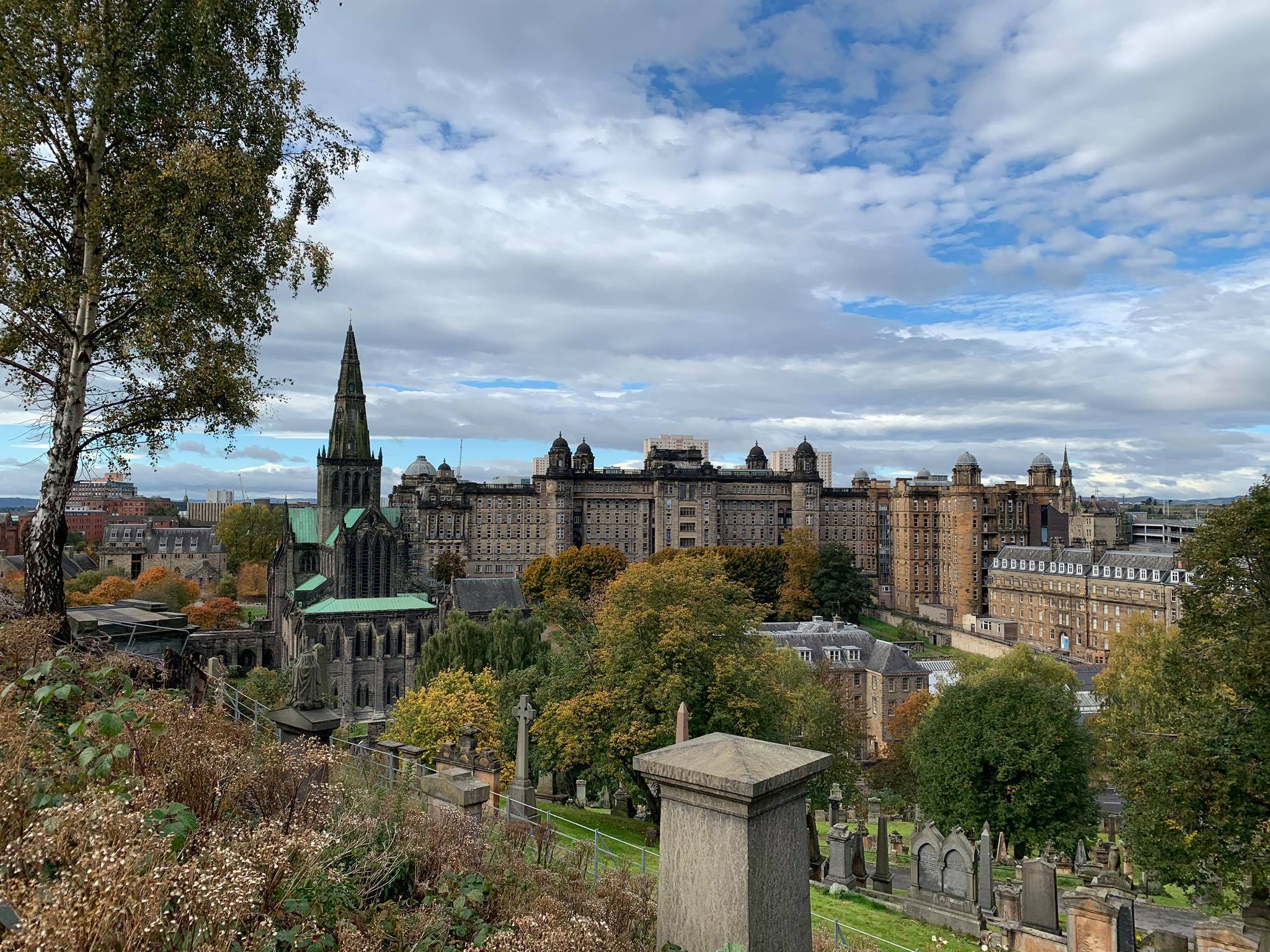 Thursday 12th May - Peer Wellbeing Support takeover
The Peer Wellbeing Support Team will be taking over the UofGLiving social media to tell you about Peer Wellbeing Support, how to book a session with a supporter, and how to become a supporter too. They will also be sharing tips to help with loneliness.
Friday 13th May - Student Life Support Officer takeover
The Student Life Support Officer, Clair, will be taking over the UofGLiving social media to let you know about her role supporting students in halls of residence. She will also be sharing information about the college Student Support Officers and recommending services and resources to help keep on top of your wellbeing while studying.
Join the Living Support Team on a social run to meet new people and get some fresh air and exercise, all for a good cause. We're encouraging everyone to wear something green to show support for Mental Health Awareness Week, as the green ribbon is the international symbol for mental health. If you're able, you could also make a donation directly to a mental health charity too.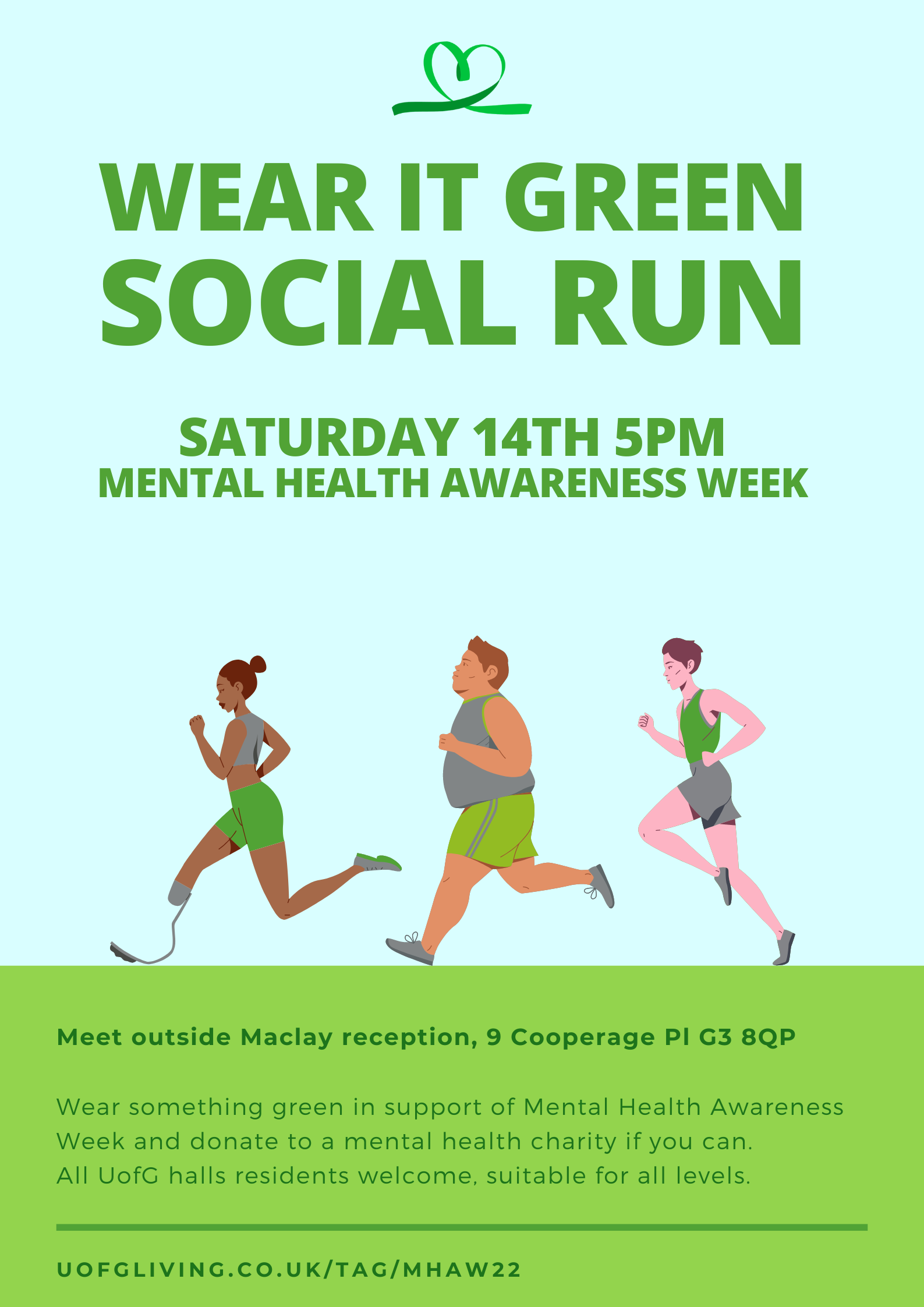 Sunday 15th May - MHAW round-up
We'll finish off by looking back over the highlights of the week and sharing key advice from the campaign. All of the resources will be available until the end of May on UofGLiving.
Topics