Accommodation
What should I bring to Uni?!
Your University experience is getting closer but you are probably so excited that you want to start packing your bags right now!
Packing is fun right?…especially when you get to your new accommodation and realise you've left your laptop charger at home - 3,000 miles away! Aaaaargh! To avoid this kind of calamity, get smart and write down a list of things you should bring with you to Uni.
To inspire you, we've compiled a list with some handy suggestions of stuff you might want to bring. But, don't get too overzealous in the packing stakes, remember that your room is not that big and that you'll have to pack it all back up when you move out.
If you're travelling from afar and have limited luggage space, remember that lots of things can be purchased once you arrive, such as kitchen equipment, cleaning supplies, etc. Glasgow has a great Ikea store and plenty of supermarkets that have all the household essentials you could need.
We have also put together a printable list to keep you right as you go along. The download is at the end of the article!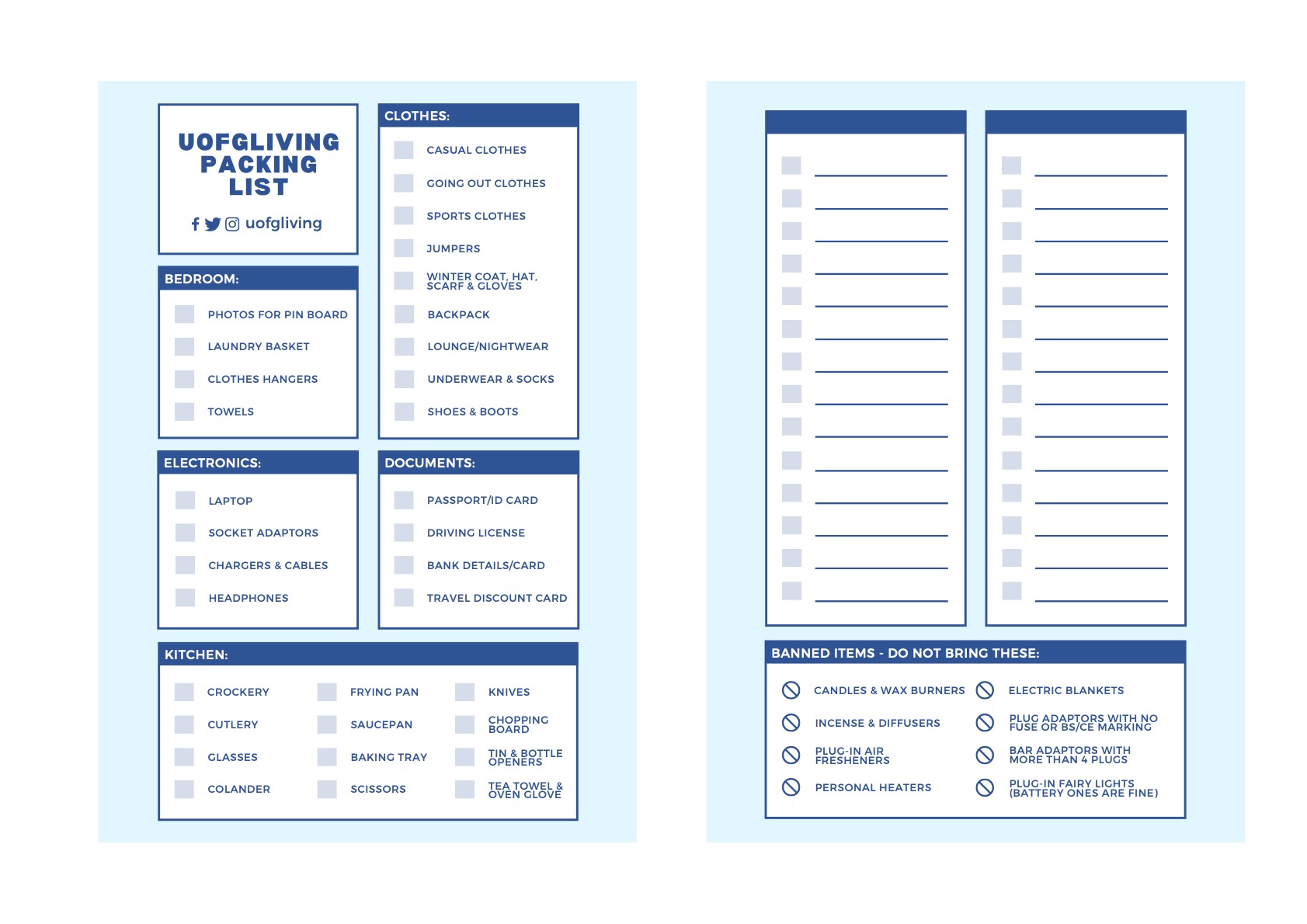 Bedroom 🛏

Yeah, you can bring that small cute cuddly toy you can't live without but seriously, you'll have plenty of time to personalise your room with fun stuff afterwards. Let's focus on the essentials first!
Laundry basket: get one to chuck your used clothes in and then carry them to the laundry room easily.
Coat hangers: there might be some left behind, if not you can go to a supermarket or pound shop and get a bundle.
Towels: get some bath and hand towels from a supermarket or home shops.
Clothes 👕
You are coming to Glasgow so winter clothing will do! OK, bring layered clothing that can be put on and off according to the temperature. I recommend you bring the essentials to get you through the first term and get the summer outfits later on.

Casual clothing: a couple of pairs jeans and some t-shirts can be worn on all occasions.
Jumpers and cardigans: great extra layers for mild weather.
Underwear and socks: make sure you have enough to get you to your next wash!
Comfy shoes: a waterproof pair is essential for our moist climate!
Winter coat: it can get quite cold.
Rain jacket: keep a light rain jacket in your bag. It can save you from getting soaked!
Scarf, gloves and a cosy hat: life savers in the Winter months.
Fancy clothes and shoes: dress to impress for your student parties.
Nightwear: don't forget your pyjamas and slippers.
Sport clothes: remember that gym membership is included with your accommodation. Pack your swimwear if you want to check out the swimming pool!
Electrical items 🔌

Certain items are not allowed in your room, so make sure you're not packing one of these! Banned items are personal heaters, electric blankets, candles and incense burners. Electrical cooking items such as kettles, toasters and rice cookers should only be used in the kitchens. Other electrical items which you may want to bring are listed here.

Laptop: probably an essential but don't worry if you don't have one with you at the beginning, some halls have a computer room and there's plenty of PCs available for students on Campus. There's free Wi-Fi in all residences and on Campus.
Socket adaptor: some international students may need this to plug electrical items brought from home, like your laptop charger. Just make sure your adapter has the BS (British Standard) or CE (which confirms the products compliance with EU legislation) mark on it.
Chargers: remember to bring your laptop, phone and whatever else charger!
Headphones: your flatmates might be glad you've got a pair of these when you start playing it loud, but make sure it's not so loud that you'll miss the fire alarm!
Documents 📑
Put these on the list too!
Passport or ID Card: essential for some official procedures as well as to get into the pub!
Driving license: you can also use it as a form of ID.
Bank details or debit card: you'll probably open a bank account once you arrive. In the meantime remember that it's safer to bring a card; cash can get lost on the way!
Travel discount card: if you have a railcard or any card that might be used to get a discount, bring it!
Kitchen 🥘

In most residences, kitchenware is not provided so you'll need to buy your own. You might want to wait and see if your flatmates want to buy stuff together or if they brought things that you can share. All kitchens have an oven, microwave, kettle and toaster. If you are staying in catered halls (Wolfson Hall), then you can just sit and relax, cooking is all sorted for you. Here is a list of some of the kitchen essentials.
Crockery (plates, bowls and mugs)
Cutlery (forks, knives and spoons)
Glasses
Frying pan
Saucepan
Baking tray
Tin and bottle opener
Colander
Kitchen scissors
Chopping board and knives
Tea towels
Oven gloves


Some items are not permitted in our residences, due to being fire hazards, so save some room in your luggage or the car and leave the following at home:
Candles
Incense sticks
Plug-in air fresheners
Personal heaters
Electric blankets
Plug-in fairy lights (battery operated ones are fine)
Deep fat fryers
Plug adaptors with no fuse or BS/CE marking
Bar adaptors with more than 4 plugs
Click the document link below to download the packing list!
UofGLiving Packing List.pdf (91 KB)
Now get packing your bags, Glasgow is waiting for you!
Topics