Accommodation
Your Optify Internet
Getting online is easy with Optify!
In University of Glasgow residences, Internet and IPTV services are provided by our IT service partners Optify.
You'll be able to get online as soon as you move into your new residence. Just follow the steps below and you will be connected in minutes.
Connect to the 'Optify' WiFi network
Register your details
Log in to your account and get online
The process is very straightforward but if you should encounter any issues check out Optify's useful Troubleshooting Guide.
Problems with your internet?
Should you ever experience any outages or loss of connectivity you can report your issues directly to Optify, 24 hours a day 7 days a week, by phoning 0333 308 0090 or by emailing: care@optifyyourworld.com.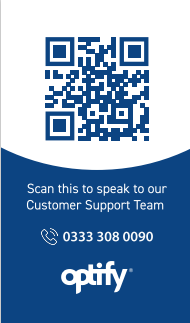 ©Optify
If any of the issues with your Wi-Fi are not resolved to your satisfaction, please email Accommodation Services with the details of your issue, your Wi-Fi username and permission to contact Optify on your behalf.
We will then be able to investigate your issue further with the Optify team and provide a resolution. 

Internet in Noms residences
If you are currently staying at Blackfriars, Bridge House, Dobbie's Point, Firhill Court, Havannah House, Kelvin Court, Kelvingrove House, Solasta Riverside or Thurso Street please contact your site reception for more information on reporting internet issues.
Topics